Posted by
Lauren
on Mar 25, 2014 in
Daily Life
|
0 comments
By Justin D.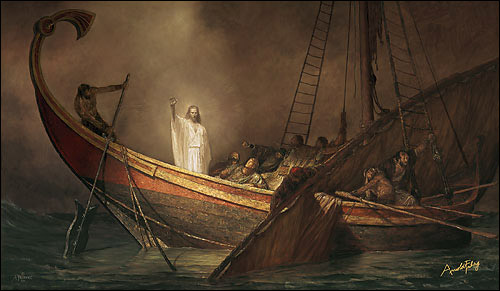 I am a 16-year-old sophomore in high school. I have a few hobbies including playing basketball, playing video games, cooking, and watching sports with my dad. My family and I have been members of the Church of Jesus Christ of Latter-day Saints for about eight years.
Lately I've pondered the question, "What does it mean to be a peacemaker?" Other questions I had were, "How have I been a peacemaker?" and "How does being a peacemaker relate to being a child of God"?
What it means to be a peacemaker. What is the opposite of peace? I think of hostility. Beginning with the fall of Adam and Eve, there has been hostility, war, and unrest on the earth. Today, we experience stress, anger, anxiety, and hatred in our daily lives. However, even with the challenges we endure, in times like these, when things are at their worst, we see the best come out of some people. There are people throughout history who put their personal interest, pride, and humility aside for the good of others. Hopefully we can all look to someone in our own lives that has these same traits. To me that's what a peacemaker is: someone who can fight through the smoke and chaos that comes with challenges and see the best in people, and the best in situations, and makes it their central focus and goal to nurture and spread that good.
There is someone at my school that comes to mind who bears these qualities. He has inspired me to be better. He is a mediator: his job is to try to help students find peace, whether that means peace in their lives at home (should they be struggling with personal issues), or peace at school (if they are having trouble with a classmate).  Every day, when I see him in the hall dealing with hostile, angry kids, I wonder "wouldn't he just love to smack that boy?"  But then it dawns on me, that would only make him feel good, and only for a short time.  To do his job as a mediator, or a peacemaker, and bring peace — true peace that lasts — he has to find a way to put aside what might make him feel good and think about what might make the other parties feel good and bring peace to the situation.  Resolving that conflict would bring a much longer, sustained, lasting peace.
How have I been a peacemaker? I have three sisters at home: one older sister and two younger sisters. Honestly, I love my sisters. They have taught me a lot, and have really been a blessing. However, they have struggles trying to get along, share, and understand each other. Sometimes peace at home requires more skill than negotiating between Israel and Palestine.
To me, a peacemaker's priority is to remain calm and centered with the Spirit when situations are at their worst. When two people are in a disagreement, a peacemaker must step in and help each side see the other's opinion. Even if the two sides don't agree, the important factor in peace is that they understand the other's opinion. This isn't easy, particularly at home. We get so heated, thanks to emotion and frustration, over our desire to get our point across, that we block out the possibility of being open to listening to the other's point. I try to create peace by stepping in and helping each of my sisters understand each other. These experiences are helping me grow personally. They are helping me grow stronger, and making me a better peacemaker.
How does being a peacemaker relate to being a child of God?  Well, to simplify things for me a bit I guess, there's one simple rule when it comes to being a peacemaker. You have to be at peace. You can't share something you don't have.
Peace to me is a gift. You can't make it in the kitchen, you can't win it playing a video game, and you can't fake it. My father gave me the opportunity to receive peace when he made the choice to convert to this church. My baptism gave me the first taste of peace. My covenant with Heavenly Father continues to give me the opportunity to grow and become more peaceful. Russell M. Nelson of the Quorum of the Twelve Apostles stated in a talk entitled "Blessed are the Peacemakers" that peace can prevail only when the natural inclination to fight is superseded by the determination to love one another on a loftier level. He goes on to say this can only be done by living through Jesus Christ. Jesus taught us how to live with one another. He declared two great commandments, "Love the Lord thy God with all thy heart, and with all thy soul, and with all thy mind," and "Love thy neighbor as thyself" (Mark 12:30-31). Just before his death the Savior said, "Peace I leave with you, my peace I give unto you" (John 14:27).
These scriptures are great reminders that peace is a gift that we are commanded to share. We are all brothers and sisters thus making us all children of God.
My favorite scripture story comes from Mark chapter 4. This is a story of Jesus and his disciples being swept up in a storm on the Sea of Galilee. The story tells us the waves beat at the walls of the boat and Jesus asleep at the stern. The disciples cried out to him, to which he awoke and, standing calmly, with authority,  rebuked the wind. He said to the waves "Peace be still!", and the winds ceased, the clouds broke, and the rain stopped.
If the Son of God can say "peace be still" and silence a biblical storm, He can speak to your heart and calm the storm you may be feeling right now. His is the ultimate peace.
It is our moral, civic, and Christ-given obligation to share and spread this peace in a way only His peacemakers can.